Want to Attract a Mate? Get in Shape with Free Exercise Advice from Cardio Trek!

Interesting Sex Facts

According to Playboy, more Americans lose their virginity in June than any other month.

According to Playboy, more women talk dirty during sex than men.

A whale's penis is called a dork.

A capon is a castrated rooster.

Armadillos have four babies at a time and they are always all the same sex.

The Mola Mola, or Ocean Sunfish, lays up to 5,000,000 eggs at one time.

The black widow spider can devour as many as twenty 'mates' in a single day.

A male moth can smell a female moth from 100 yards away.

A female mackerel lays about 500,000 eggs at one time.

Male and female rats may have sex twenty times a day. A female can produce up to twelve litters of twenty rats a year: one pair of rats has the potential for 15,000 descendants in a year.

Of the approximately 200 eggs laid by a female leatherback sea turtle an average of two will survive their youth and grow to sexual maturity.

In Ventura County, California, cats and dogs are not allowed to have sex without a permit.

A female oyster over her lifetime may produce over 100 million young.

Neutering a cat extends its life span by two or three years.

A female dog, her mate and her puppies can potentially produce 12,288 dogs in five years.

The largest eggs in the world are laid by a shark.

In Kingsville, Texas, it is against the law for two pigs to have sex on the city's airport property.

In certain species of seals, like the elephant seal, males may be several times larger than females because larger males can better defeat their rivals in territorial fights and so acquire larger harems.

Squids are a large, diverse group of marine cephalopods. They begin mating with a circling nuptial dance, revolving around across a `spawning bed' (200 metres, in diameter). At daybreak, they begin having sex and continue all day long --they only take a break so the female can drive down and deposit eggs. When she returns to the circle, the two go at it again. As twilight falls, the pair go offshore to eat and rest. At the first sign of sunlight, they return to their spot and do it all over again.

Penguins in general prefer to be `married', but they suffer long separations due to their migratory habits. When reunited, a pair will stand breast to breast, heads thrown back, singing loudly, with outstretched flippers trembling. Two weeks after a pair is formed, their union is consummated. The male makes his intentions known by laying his head across his partner's stomach. They go on a long trek to find privacy, but the actual process of intercourse takes only three minutes. Neither penguin will mate again that year. The male Adele penguin must select his mate from a colony of more than a million, and he indicates his choice by rolling a stone at the female's feet. Stones are scarce at mating time because many are needed to build walls around nests. It becomes commonplace for penguins to steal them from one another. If she accepts this gift, they stand belly to belly and sing a mating song.

There is a common joke: "How do porcupines do it?" "Very carefully." But in reality, the truth is more bizarre than dangerous. Females are only receptive for a few hours a yearm, so they go off their food, and stick close by the males and mope. Meanwhile the male becomes aggressive with other males, and begins a period of carefully sniffing every place the female of his choice urinates, smelling her all over. This is a tremendous aphrodisiac. While she is sulking by his side, he begins to `sing'. When he is ready to make love, the female runs away if she's not ready. If she is in the mood, they both rear up and face each other, belly-to-belly. Then, males spray their ladies with a tremendous stream of urine, soaking their loved one from head to foot - the stream can shoot as far as 7 feet. It is advised never to stand close to a cage that contains courting porcupines.

The female gastric-brooding frogs are a genus, Rheobatrachus, of frogs from East Australia. The curiosity with these frogs is their unique parental care: following external fertilisation by the male, the female would take the eggs into its mouth and swallow them. It is not clear, however, whether the females swallowed the tadpoles or the eggs, as it was never observed prior to their extinction. The last captive specimen died in 1984.

Red-sided Garter snakes are small and poisonous, and live in Canada and the Northwestern United States, and they prefer orgies. Their highly unusual mating takes place during an enormous orgy. Twenty-five thousand snakes slither together in a large den, eager to copulate. In that pile, one female may have as many as 100 males vying for her. These `nesting balls' grow as large as two feet high. Now and then a female is crushed under the heavy mound - and the males are so randy that they continue to copulate, becoming the only necrophiliac snakes!

Hippos have their own form of aromatherapy. Hippos attract mates by marking territory, urinating and defecating at the same time. Then, an enamored hippo will twirl its tail like a propellor to spread this delicious slop in every direction. This attracts lovers, and a pair will begin foreplay, which consists of playing by splashing around in the water before settling down to business.

Anglerfishes are bony fishes. Some of them have a unique mating method: Since individuals are rare and encounters doubly so, finding a mate is a problem, especially at a time when both individuals are ready to spawn. When a male anglerfish hatches, it is equipped with extremely well developed olfactory organs that detect scents in the water. They have no digestive system, and thus are unable to feed independently. They must find a female anglerfish, and quickly, or else they will die. When he finds a female, he bites into her flank, and releases an enzyme which digests the skin of his mouth and her body, fusing the pair down to the blood vessel level. The male then atrophies into nothing more than a pair of gonads that release sperm in response to hormones in the female's bloodstream indicating egg release. This is an extreme example of sexual dimorphism. However, it ensures that when the female is ready to spawn, she has a mate immediately available.

The female mite known as Histiostoma murchiei creates her own husband from scratch. She lays eggs that turn into adults without needing to be fertilised. The mother then copulates with her sons within three to four days of laying the eggs, after which the sons die rather quickly.

Topless saleswomen are legal in Liverpool, England - but only in tropical fish stores. (But of course!)

In Maryland, it is illegal to sell condoms from vending machines with one exception: prophylactics may be dispensed from a vending machine only "in places where alcoholic beverages are sold for on the premises."

The penalty for masturbation in Indonesia is decapitation (but which head?).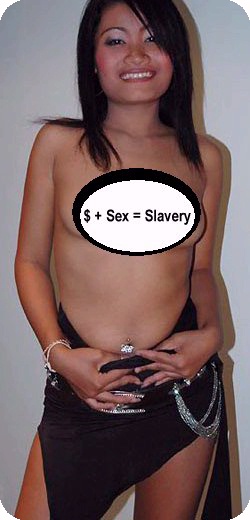 The Role of Love and Sex in a Healthy Relationship
By Monique Bellamont - August 2009.
The four cornerstones of a healthy loving relationship are: Communication, Trust, Honesty and Sex. Without all four of these the relationship will eventually fall apart. A lack of communication leads to misunderstandings and instances of the dreaded "silent treatment". A lack of trust means the person you are with is untrustworthy. If you can't trust them with your wallet, how can you trust them with your heart? Dishonesty means the person is just plain lying to you and doesn't respect you. Lack of sex will result in adultery, cheating and sneaking around. Its just human nature.
That said we know that sex plays an important role in marriages. People have really high expectations when it comes to sex. They want a mindblowingly good time and sometimes your partner just fails to meet that expectation. The same goes with love. People want to be head-over-heels in love with someone, and to have that feeling of absolute commitment to be returned. Anything less than that and people feel dissatisfied, but hopefully they continue the relationship because they are pragmatic enough to realize their expectations were too high.
We've all seen the captions from women's 'fluff' magazines.. 20 ways to please your man in bed, 30 feisty foreplay tips, 12 ways to get your man to please you, etc. They're ridiculous and they place really high expectations on the poor men. For example in a recent edition of Cosmopolitan one of the foreplay tips was to dribble chocolate syrup all over yourself. Yuck. True, that might do it for some people, but some people find that quite revolting. And how exactly is that supposed to make the sex more fun? It just makes a mess and the suspicious brown stains on your sheets will raise some eyebrows.
My advice is that people be practical and use some common sense in bed. If you're both into wearing leather and spankings, fine, go for it, but I think that is something that has to be discussed (communication!) so that the couple knows what to expect from their partner. Don't expect the moon, but do expect the other person to make a concentrated effort to make you happy too. Some people believe sex is a competition to see who can please the other more, and that to me is a welcome idea.
Its important that people are satisfied with their sex lives... if they are not their eyes will begin to wander. People are hardwired to wanting a sex partner so they can reproduce. If they aren't getting any sex, their brain automatically starts looking for a new source for sex. This is equally true for men and women.
What is worse is when the person in question doesn't love their partner any more. They've lost interest and fallen out of love, possibly to one or more of the four cornerstones not being met. For example lets say they don't trust their partner any more because they caught them cheating (or simply suspect cheating) and they decide to go on a cheating spree themselves in an effort to get even. Its childish and vindictive, but people do it.
Or lets pretend their partner is giving them the silent treatment. Most people agree that the silent treatment is a sure sign that the relationship is over. If someone isn't answering your phone calls or emails, the relationship is pretty much over. Some people will claim that the silent treatment is punishment, but that is just more vindictive and childish nonsense and further reinforces the fact that the relationship is over (and that one of you probably shouldn't even be in a relationship if you're that immature you don't know how to communicate your feelings). End result? The person receiving the silent treatment thinks the relationship is over, gets tired of the head games and looks elsewhere.
Casual Sex
Sometimes people just hook up, get freaky with it for one night and then never see each other again. As long as both parties know that there isn't a problem. The moment one of them develops romantic feelings however then things will get complicated and likely end badly.
"Friends with Benefits" is another concept that is equally flawed. Eventually one of the friends develops romantic feelings for the other and this throws a whole wrench into the relationship, often with disastrous results and the end of the friendship. It could be wonderful if they make the switch from friends to lovers, but that is often not the case.
Conclusions
The kryptonite of all relationships is that it should always be mutual. Communication, Trust, Honesty and Sex is needed by BOTH partners. If one of them isn't getting one of those requirements then love just isn't possible for them. Some people might add extra requirements such as shared interests/hobbies, shared beliefs, nonsmoking, both want children, similar lifestyles, etc.
There is a growing argument between academics over whether humans are naturally polygamous or monogamous. I personally believe that humans want monogamy, but when they are unsatisfied with their partner they start looking for a new partner (sometimes without breaking up with the first one). Its not necessarily cold hearted. It really varies from person to person because they have different reasons. Some people just feel unloved and think their relationship is already over. Some are just players looking to upgrade, thinking they can do better.
These days a lot of people rush into marriage before they are really ready for it. As such half of all marriages in the United States end in divorce and one of the leading causes of divorce is lack of sex (which in turn leads to adultery). Knowing that we know that sex is very important in a relationship and couples need to do more to communicate their sexual needs honestly and help build trust and intimacy.
Hear that? Just be honest and communicate and the two of you should find happiness.
---
How to have a Threesome and maintain a Happy Marriage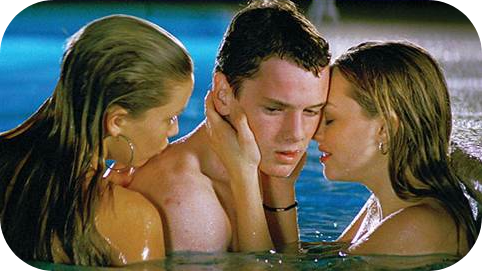 Do you know the origins of the phrase "Consummate Professional"? It means you consummate with other people (sexually), but you are professional about it.
Consummation has several meanings, the foremost of which is the consummation of a marriage, wherein a new couple have sex with each other.
But over time to consummate has taken on several other meanings, including phrases like "consummate professional", which means that someone is completely professional. Another one is "consummate liar" which means someone who is a very good (professional) at lying.
Thus we arrive at the first two rules when it comes to a married couple who is seeking to have a threesome in order to spice up their sex life.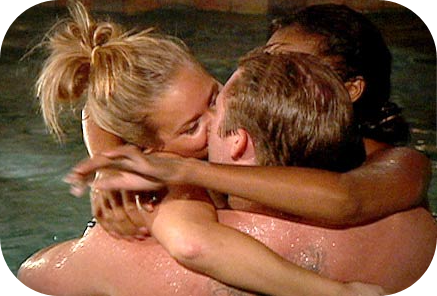 Rule #1. Always be honest with your partner, about everything.
Rule #2. Be professional about this. Full disclosure isn't just about being honest, it is about deliberately avoiding temptations outside of the agreed upon threesome.
Rule #3. When meeting the third party for your threesome, always meet them together. There should be no extra nonsense on the side.
Rule #4. If possible and legal in your province or state, hire an escort instead of a random person off the internet. Why? Because the escort will be a consummate professional and will have no interest in either person becoming a more permanent sexual partner. If not possible, consider out of state sex tourism. eg. Hire an escort agency in Toronto when you visit Canada for your next vacation, since adult massage parlours / etc are legal in Canada, and they're perfectly willing to service couples.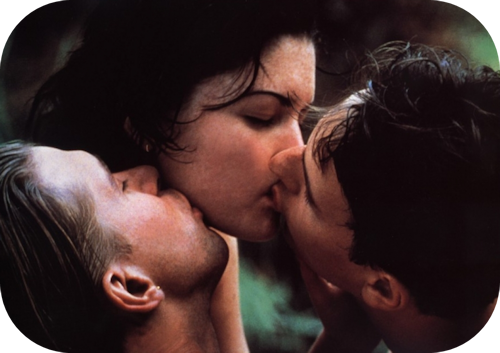 Rule #5. After the threesome is over cut off all ties with the third-party. Plan out your next threesome adventure with a new person.
The beauty of following these rules is that it allows a loving married couple (or unmarried couple) to explore more options in their sex life - but without the risk of their marriage coming to an early end due to a lack of trust.
Some people are just more promiscuous and adventuresome than others. It will be natural for such people to want to sleep around, and feel pinned down / trapped in a marriage if they cannot explore their sexuality more fully. Thus it makes sense that women and men who are more polyamorous to date and marry other people who have similar polyamorous beliefs. It is when monogamous people and polygamous people marry however that problems are bound to happen, as their sexual beliefs are bound to clash.
For fun, watch the Seinfeld episode "The Switch", wherein George attempts to break up with a woman by suggesting he is interested in a menage-a-trois.